HopstoreHop and Store is a company born in 2017 in South Burgundy.
This is the story of a couple, among many others, who wanted to leave the city to (re)find another quality of life, in the country.
We set down our suitcases in a small village of Saône et Loire in 2015. Since then, we have been looking for a conversion that suits us. After several projects, each on our own, we decided to concentrate our efforts on Hopstore.
There are several reasons for this.
First of all, it's a project that makes sense. To help brewers find the hops they need. It also means helping a sector in need of derogations to find solutions to continue to offer organic beers (and Nature et Progrès).
Then it's a global project. Hop growers can be found all over the world. Each one has its own terroir, its endemic varieties, its aromatic particularities. Hops are a bit like the spice of beer, and the idea of being explorers on a spice quest is not to displease us. Especially if the hop we're looking for is just a few miles away...
It's an extraordinary plant. To our knowledge, there are no contraindications to the use of this plant. Its applications are renewed and invented every day.
Finally, it is a project that allows us to work and live in the countryside. To work together. To see our daughter grow up. To meet new people and share good times. And that's the most important thing in life, isn't it?
Leia
CEO - Founder
A self-taught entrepreneur since her PhD in 2012, Leïa has long worked on the theme of industrial ecology. Two a priori antinomic terms that give an idea of the challenge she has had to take up: making industrialists aware of the need to work in an ecosystem to limit their impact on the environment. It has thus surveyed the territory to meet, convince, mobilize, encourage, support and facilitate the implementation of inter-company synergies.

Then, a certain routine added to a lack of concreteness got the better of his motivation.

The hops cross its path a little by chance in 2017 and it is love at first sight. She continues her efforts to put people in touch, but this time between organic hops that she's going to find and brewers 😉 A new challenge!

The rest of the time, well...she tells stories to her 5 year old weasel; reads books about the energies, the Universe and the resources that we have in each of us; makes mummy with water and brushes; makes seedlings, plants trees, shrubs, flowers of all kinds; scrolls on Insta ( #personnenestperfect ), sings like a pro in the car, Yog' and walks in the open air.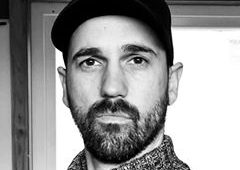 Jean-Sébastien (JS)
Associate
First employed in a computer company for 8 years. Since 2015 JS has developed a wide variety of skills.
By creating a concierge platform of local products and services to begin with.
Then by supporting local authorities in their digital changes.
Finally by the production of promotional photos and videos.

In parallel to his "digital" missions, JS worked for a GAEC of producers in Biodynamics and an organic brewery.

It was in this context that the idea of working with organic hops was born.

JS joined at the Hopstore end of 2019 to bring his relational know-how and communication skills.

And the rest of the time... he likes to meet up with friends to have a good time, talk about everything and above all... nothing, ride his bike (but not too much), run (but not too much), mow the lawn and watch the fire with his feet in the grass.
HOPSTORE Where is it?
Hopstore is located in the countryside of South Burgundy, 30 minutes from Mâcon, 1 hour from Lyon, 2 hours from Dijon and Geneva.