HOPSTORE is a small family business. A story of family and friendship.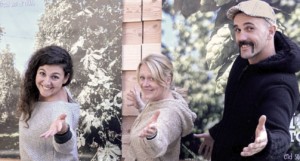 Leïa
CEO - Founder
A self-taught entrepreneur since completing her doctorate in 2012, Leïa has long worked in the field of ecology.
She has been running the company HOPSTORE since 2017. In addition to day-to-day management, she is committed to building and maintaining a network of supplier partners. The quality of human relations and respect for others are her mantra.
She coordinates the international supply chain and ensures administrative follow-up of imports. A significant part of her time is dedicated to managing upstream and downstream traceability.
The rest of the time, well... she remakes the world with her 7-year-old weasel; reads books on energies, the Universe and the resources we all have within us; plays with water, paintbrushes, stained glass, dried plants; sows seeds, plants trees, shrubs, flowers of all kinds; scrolls on Insta (#personnenestparfait ), sings like a pro in the car and walks in the fresh air.
Gaëlle
Administrative Assistant
Self Made Women, Gaëlle is developing several entrepreneurial projects from her small village in Saône-et-Loire: grocery store, concert meals, catering, bed and breakfast, etc. She is also involved with local associations to support local initiatives.
In this busy schedule, Gaëlle has saved a place for HOPSTORE.
She devotes around ten hours a week to the administrative follow-up of contracts and orders.
On the personal side, she has a joyful and curious little girl, whom she enjoys to the full, and a sweetheart who is just as passionate about cooking and market gardening, and who has a more than serious education in the field, and who supports her and helps her to develop her main activity.
When she has some time left, she fills her greenhouse with seedlings, flower and shrub cuttings of all kinds, makes crazy collages, supposedly plays sports like everyone else, is a serial fan, a film buff, a music lover, etc... She reads in bed and enjoys the fresh air and her friends over good beer!
Jean-Sébastien (JS)
Sales Manager - Associate
Serial entrepreneur with contrasting successes... 😉
JS enjoys working on a variety of projects. In IT, agricultural production, brewery production, audiovisual, local development, self-build, ...
AtHOPSTORE, he manages the day-to-day digital and logistics side of the business.
An everyday epicurean, he has a passion for hoppy flavours and is happy to discuss recipes with brewers who ask him.
And the rest of the time... he likes to meet up with friends to have a good time, talk about everything and especially... nothing, ride his bike (but not too much), run (but not too much), mow the lawn and watch the stove fire.

Trading is one thing, but trading while destroying our one and only planet is quite another.
So the very least we could do was to encourage agriculture that regenerates soil and biodiversity, protects the health of producers and consumers, and is as aware as possible of the close relationship we have with our environment.
All our hop flowers, mini-balls and pellets are certified organic and/or Demeter.
The choice of merchandise is an important point.
In addition, it's essential to look at how we operate internally. To this end, we are working to limit our impact through the choice of our raw materials, the sorting of our waste, among other things...